PSGIMSR is extremely proud of its alumni, who comprise an exceptionally diverse, professional, talented, and vibrant community.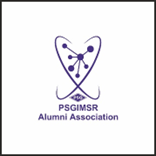 PSG Alumini Association
The PSG Alumini Association (PSGIMSR AA )is the main portal to the PSGIMSR community after graduation. It provides a variety of services and resources that help all alumni stay connected with PSGIMSR and each other. We invite you to take advantage of the association and help us to build a larger alumni network.
Facebook : https://www.facebook.com/psg.maas/about
Email: alumni@psgimsr.ac.in